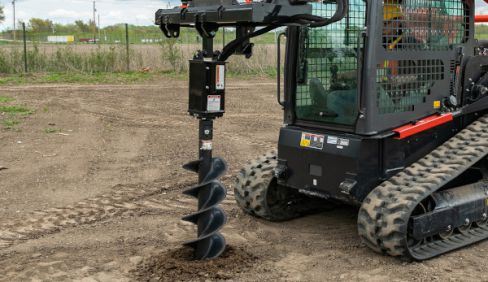 Double tap to zoom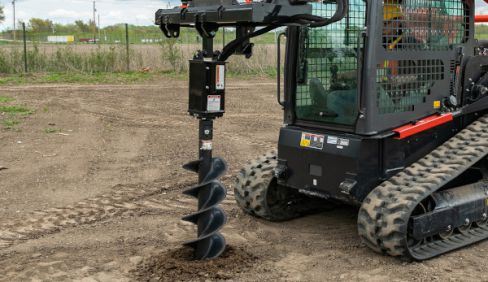 Features
FEATURES
BENEFITS
Skid steer type quick attach that meets SAE
Fits most Skid Steers
Easy hook-up and unhook capabilities
Loader arms can be used to apply additional down force.
Maneuverability
Skid Steer Post Hole Diggers are able to reach over fences or other obstructions.
Replaceable hardened steel points on auger
Hardened points will last longer than non-hardened. Points are replaceable. Fish tail tips and steel point make it easier to start a hole.
SA35 Series
Fits 10 - 30 gpm hydraulic systems
Output shaft options
2" Hex shaped output shaft, or 2-9/16" shaft. Both offer high torque resistance, with the hex shaft being the heaviest available.
Planetary gearbox
Design is a tougher, more construction grade than chain and sprocket designed gearboxes. Boxes are completely sealed with all moving parts running in oil for constant lubrication.
Large selection of augers
Variety of dirt, tree and rock auger sizes and styles to suit many applications
Large selection of Bolt-on Rock Heads (Accessory)
Pengo Dirt augers can be converted to Rock Augers with this accessory
Auger length
46" on 9" Auger, 48" on all others.
Puff augers
Available with 2" hex hub or 2 9/16" round hub. Used for drilling 2" rock T-post holes in tough conditions.
Specifications
Specifications & Capacities
   SA35
Skid Steer Hydraulic Requirements
10 - 30 gpm @ 1500 to 3500 PSI (37.9 - 113.6 lpm @ 10.34 to 24.13 MPa)  
Hydraulic Motor
18.3 CID  
Gearbox
Hydraulically driven planetary gearbox; reversible  
*Output Torque
2,732 ft-lbs (3703.5 Nm) based on 3,000 psi (20.68 MPa) @ 20 gpm (75.7 lpm)  
Hitch
Skid steer type quick attach that meets SAE  
Weight without Auger
372 lbs (197.3 kg)  
Auger Length
9" Auger size = 49" (1.24 m)
All other auger sizes = 50 3/4" (1.29 m)  
Auger Flighting Thickness
5/16" (8 mm)  
Auger Pipe
2 1/2" (6.4 cm) ID  
Auger Teeth
Forged, Individually Replaceable. 40 Degree angle installed on flat side and 50 degree angle installed on angled side  

Number of Teeth 

Dirt Augers
6" - 2 teeth
9" & 12" - 4 teeth
15" - 5 teeth
18" - 6 teeth
24" - 8 teeth
30" - 10 teeth
36" - 12 teeth
Tree Augers
24" - 9 teeth
30" - 11 teeth
36" - 13 teeth
Rock Augers
6" - 6 teeth
9" - 10 teeth
12" - 12 teeth
15" - 14 teeth
18" - 16 teeth
24" - 20 teeth
Pilot
Cast Steel, 3 -Drill Points 
Cast Steel, 4 - drill points
Hex hub puff auger Part# .317-318A
RND hub puff auger Part# 317-318A
2" (5.1 cm) Pilot bit x 2" (5.1 cm) hex hub x 38.7" (98.3 cm) overall length
2" (5.1 cm) Pilot bit x 2 9/16" (6.5 cm) round hub x 38.7" (98.3 cm) overall length  
Options and Accessories   
Gearbox Output Shafts (Options)
2" (5.1 cm) Hex shaft or 2 9/16" (6.5 cm) round shaft  
Auger sizes (Options).
Dirt, 2" (5.1 cm) hex hub: 6", 9", 12", 15", 18", 24", 30", & 36"
Dirt, 2 9/16" (6.5 cm) round hub: 9", 12", 15", 18", 24", 30", & 36"
Tree, 2" (5.1 cm) hex & 2 9/16" (6.5 cm) round hubs: 24", 30" & 36"  
Bolt-on Rock Head (Accessory)
6", 9", 12", 15", 18", & 24"  
Auger Extensions (Accessories)
2" (5.1 cm) Hex extension: 24" & 48" Extensions Available
2 9/16" (6.5 cm) OD round extension: 24" & 48" Extensions Available