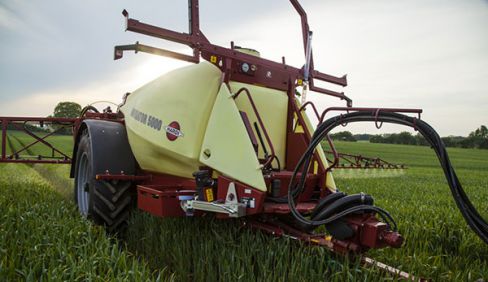 Double tap to zoom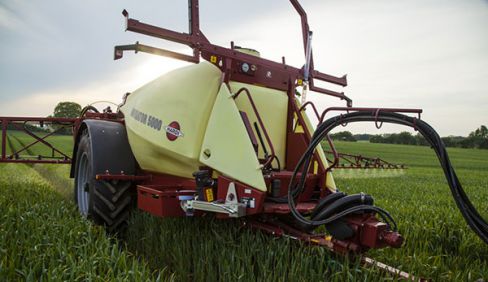 Features
IntelliTrack
IntelliTrack is a high-end steering drawbar concept combining the advantages of an excellently designed chassis with the use of advanced electronics. The tracking concept is easy to connect and operate, ensuring safe tracking even in difficult field conditions. IntelliTrack has an integrated safety feature which prevents the cylinders from steering the drawbar when the driving speed is too high for the given track width.
DynamicFluid4
The DynamicFluid4 system will calculate the consequences of the increased RPM and make the regulation instantly. The DynamicFluid4 property of pro-acting is based on 4 sensors in the fl uid system measuring RPM, position of regulation valves, flow and pressure. Combined with a specific new software and a new, unique ceramic regulation valve, DynamicFluid4 is offering precision in the application rate giving the best performance available on the market.
The sensors of DynamicFluid4 each have their individual task, but they will also work as backup for each other, and the regulation will continue. Regulation can be done manually.
Boom management system
The HARDI AutoSlant, AutoHeight and AutoTerrain systems will automatically control the boom This makes the job much easier for the driver, and the result will be a better spray application.
The system is known for the following features:
Robust and precise ultrasonic sensors
Option to choose between soil, crop or hybrid mode
Provortional valve for smooth movements (AutoHeight, AutoTerrain)
Slant, tilt and height correction (AutoHeight, AutoTerrain)
Slant and height correction (AutoSlant)
AutoTerrain works and reacts on both boom movements and twisting forces on the boom. This allows the system to be proactive and react on the cause more than on the symptom.
DELTA FORCE boom - Compact in transport - wide in field
DELTA FORCE is designed to be a large boom. The selection of features and the layout of the boom structure are targeted to perform at high driving speed and high performance at boom widths of 24-39 m. The result is a boom with many simple and strong solutions which together give a high-performing and reliable boom with a simple setup, low maintenance and a great design.
A very advanced, but yet simple centre part controls the movements of the DELTA FORCE boom. The five pendulum settings allow to adjust the boom performance, either to a pendulum, which follows the sprayer movements, or to follow the level of the terrain.
HARDI DELTA FORCE is available in:
3-fold: 39/27/15 m, 36/27/15 m, 36/24/13 m, 33/25/15 m, 32/25/15 m. 
2-fold: 30/15 m, 28/14 m, 27/14 m.
Specifications
Tank, litres
5000
Pumps, type – l/min
364 -194 / 464 - 280 / 464H - 334
Booms, m
DELTA 24 m 
EAGLE 24-30 m 
DELTA FORCE 24-39
Suspension
Optional
Tracking
Optional
Hydraulic outlets needed (Y models) **
1 single + 1 double acting
Hydraulic outlets needed (Z models) **
1 double acting
Weight on drawbar (empty tank)*, kg
400
Weight axle (empty tank)*, kg
4150
Weight total (empty tank)*, kg
4550
Turning radius IntelliTrack, m
8.5
Total length, m
8.0-9.35
Total height, m (with DELTA boom)
3.80
Total height, m (with EAGLE)
3.94
Total height, m (with FORCE booms)
3.80
Width with EAGLE boom, m
3.00
Width with DELTA boom, m
 2.55
Width with FORCE boom, m
2.55
Track width fixed axle, m
 -
Track width adjustable axle, m
 1.80 - 2.25
Length draw to axle, m
 5.45
Clearance, m
 0.8 (13,6 × 48)
RinseTank, l
 500
Clean Water Tank, l
 20
* Weight 3000 l is with 24 m EAGLE boom, 4000 l with 28 m DELTA-Z boom, 5000 l is with 30 m EAGLE boom, 6000 l with 30 m FORCE boom
** Minimum requirement. Extra function can require extra outlets.