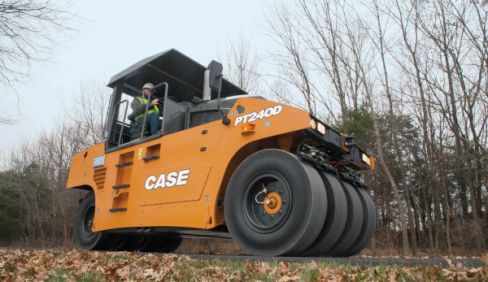 Double tap to zoom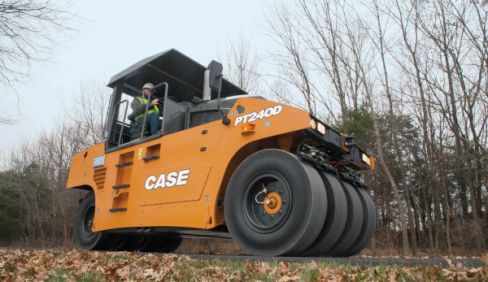 Features
Improved Compaction Quality
The tire configuration — four in front and four in back — features a two-inch overlap and a total compaction width of 78 inches. The rubber-tired roller kneads hot mix asphalt gently at the surface as it rolls. The result is greater asphalt density and fewer voids in the finished product.
It's All About the Oscillation
An iso-static front axle allows each of the front tires to oscillate three degrees in either direction, as well as up and down. This ensures contact with the ground at all times to minimize bridging and further improve compaction.
Greater Customization with Central Tire Inflation System
The central tire inflation system ensures consistent inflation to all eight tires and allows for easy, on-the-fly adjustment of tire pressure to meet ground conditions and compaction needs.
Flexible, Comfortable Operator Station
Two operating stations provide optimal visibility to the edge of the compaction zone no matter which side of the machine it's on - all with centrally located controls. Options include an enclosed cab with heat.
Tier 4 Final with no Diesel Particulate Filter (DPF)
The PT240D meets Tier 4 Final emissions regulations through a combination Diesel Oxidation Catalyst (DOC) and Selective Catalytic Reduction (SCR) aftertreatment system – no lifetime service associated with a DPF.
Easy to Service and Maintain
All primary service points are centrally grouped for ease of access, and the PT240D is compatible with CASE SiteWatch™ telematics for added peace-of-mind and preventive maintenance monitoring.
Specifications
STANDARD EQUIPMENT
OTHER
Fixed ROPS Open Platform with hand rails
Anti-vandal cover
Halogen worklights x 4 (55 watt / front and rear)
Turn signal indicator (left and right)
Breaklights
Tilt open hood
Backup alarm
Master disconnect switch
Lift and tie down provision - 4-point
Electric fuse protection
Spin-on fuel, engine oil and hydraulic filters
Brush scrapers on each tire
OPERATOR ENVIRONMENT
Retractable seat belt - 3 in (76 mm)
Dual operator stations
Suspension seats with foldable arm rests
Emergency stop button
Lockable tool box
INSTRUMENT PANEL
Steering wheel spinner knob
Horn
Hourmeter
INDICATOR LIGHTS
Battery
Engine oil pressure
Intake preheater
Engine temperature
Parking brake
Sprinkler system ON/OFF
MONITOR DISPLAY PANEL
Engine RPM
Engine hours
Fuel rate
System voltage
% engine load at current RPM
Coolant temperature
Oil pressure
Fuel economy
Current fuel consumption
WATER SYSTEM
Pressurized water system
Water filtration - single stage
Watering system drains
OPTIONAL EQUIPMENT
OTHER
Cab w/ heat
Cab air-conditioning
Radio mounting w/ 2 speakers and antenna
Cocoa mat scrapers
Thermal aprons
Scrap metal for ballast
Tiltable scrapers (spring applied)
Rotating beacon
Air precleaner
Spare tire with rim
Radial tires
Water tight chassis ballast compartment
460 liters - 122 gallons
Edge cutter
Spare Rim, no tire
Differential lock (rear only)
CASE SiteWatch™ Telematics – includes hardware and a 3-yr Advanced data subscription