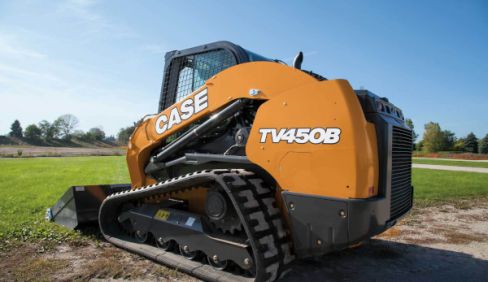 Double tap to zoom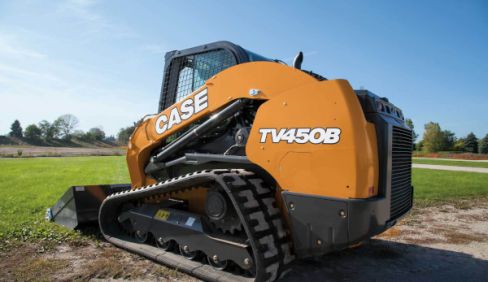 Features
Visibility and Comfort
CASE CTLs feature industry-leading visibility with a new backup camera (operational in both forward and reverse), cab-wide rearview mirror, large front and side windows, a low entry threshold for easy entry and greater visibility down to the bucket, a low sloping rear hood and 360-degree lighting. CASE CTLs feature one of the industry's widest cabs and new control handles that provide more comfortable operation throughout the day. Redesigned controls, cupholders and air vents further create more legroom and comfort.
Optimal Control
CASE compact track loaders are available in electro-hydraulic, mechanical and mechanical hand and foot configurations. New electro-hydraulic models with the all-new 8-inch LCD multi-function display give operators the most control, with easy switching between ISO and H operating patterns, the ability to save operator profiles and application settings, and the flexibility to set total machine responsiveness to low, medium or high — or to independently set loader arm and drive response to meet exact operator preference.
Productivity and Performance
A machine of this size and power requires a tale of the tape: 4,500-pound rated operating capacity; 9,188-pound bucket breakout force; a hinge pin height of almost 12 feet; enhanced high flow hydraulics that pump 35 gpm at a whopping 4,000 psi for hardcore attachments such as mulchers and cold planers. The TV450B is built for high performance, production-level working environments that require strength, power and efficiency.
Ease of Ownership
All critical checks and service points are grouped at the rear of the machine for easy access, and the all-new 8-inch LCD multi-function display provides the operator with real-time data on machine operation and performance. The machine features a selective catalytic reduction (SCR) emissions solution that requires no regular maintenance — simply top off the diesel exhaust fluid (DEF) tank as needed!
Specifications
STANDARD EQUIPMENT
OPERATOR ENVIRONMENT
ROPS/FOPS Level 1 canopy w/ side screens
Keyed start ignition
Tilt ROPS/FOPS
Rear window w/ emergency escape
Suspension Seat, vinyl w/ 2 in (51 mm) retractable 3 point lap seat belt
Hand and foot throttles
Alarm package – back-up and horn
Rearview mirror
Headliner
Dome Light
Top window
Cup holder
12V Power plug socket
Foot rest
Seat pocket
Padded seat bar w/ integral armrests
Loader control lockout system
Electric parking brake control
Operator's compartment floor cleanout
Proportional auxiliary hydraulic control – on joystick
Advanced Instrument Cluster w/ digital hour meter, tachometer, Fuel level LCD bar graph w/ alarm, diagnostic features and security lockout
Electro-hydraulic controls: For drive/steering, loader functions, Switchable between H and ISO patterns, Adjustable sensitivity of controls.
Warning lights with alarms:

Engine coolant temperature
Engine oil pressure
Engine malfunction
Hydraulic charge pressure
Hydraulic filter restriction
Hydraulic oil temperature:

Critical system stop
Engine system
Hydraulic system
Electrical and diagnostic system

Warning alarms:

Battery voltage – plus display
Oil service

Indicator light:

Engine preheat
Parking brake
Seat bar reminder
ENGINE
Dual element air cleaner
Organic Acid Technology (OAT)
Anti-freeze solution to -34º F
Fuel tank - 25.5 gal (U.S.)
Over and under radiator and oil cooler
3-stack after cooler/radiator/oil cooler configuration
Glow plugs
Integral engine oil cooler
Fuel filter with water trap
1,000 CCA 12V battery
Master electrical disconnect
Jump start terminal
DRIVETRAIN
2-speed hydrostatic four wheel drive
SAHR disc parking brake
HYDRAULICS
Auxiliary hydraulics:

@ 3,450 psi (238 bar) – 24.2 gpm (91.5 L/min)

6 micron oil filtration system
3-spool loader control valve
Auxiliary hydraulic disconnects, ISO flat-face – connect-under-pressure with case drain
Hydraulic circuit pedal lock
Auxiliary function lockout override
Loader lift lockout override
Heavy-duty hydraulic oil cooler
Loader arm float position
Loader function lockout system
LOADER
Manual attachment coupler
Vertical lift geometry
Loader lift arm support strut
SAE operating load: 3,150 lbs
Tipping load: 9,000 lbs
TRACKS
OTHER STANDARD FEATURES
Halogen lights - 2 front, 2 side, 2 rear flood
Pre-wired for rotating beacon
Lockable service access hood
Single-point daily servicing
Rear tail lights
Remote oil and fuel filters
Block heater
Debris ingression sealing
Mounting points for add-on counterweights
OPTIONAL EQUIPMENT
OPERATOR ENVIRONMENT
Enclosed cab:

Fully sealed and pressurized – FSP
Glass door with wiper and washer
Sliding side windows – removable
Ventilation system with integrated heater
Heater and air conditioner
AM/FM Bluetooth radio with 2 speakers and USB port
Keyless start ignition

8 in Color LCD Display
Economy Mode (auto idle shutdown)
Auto Engine Protection Shutdown
Mechanical hand controls
Hand and foot controls:

Hand controls the loader drive function and foot controls the bucket and boom

Deluxe cloth, air suspension seat, with heater and lumbar support
Demolition cab door with polycarbonate
Ignition Timeout
Machine Settings User Access Levels
Operator Security Codes
HYDRAULICS
High-flow auxiliary hydraulics – combined:

@ 3,450 psi (238 bar) – 39.5 gpm (149 L/min)

Enhanced High-Flow auxiliary hydraulics – EHF:

@ 4,000 psi (276 bar) – 35.0 gpm (132.5 L/min)

Second auxiliary hydraulics
Hydraulic one-way self-leveling
Ride control
LOADER
Auxiliary front electric control
Hydraulic attachment coupler
DRIVETRAIN
OTHER
Language decals
Buckets
Bolt-on bucket cutting edges
Bolt-on heavy-duty bucket spill guard
Special paint
Offsite service arrangement
SiteWatch Telematics
FACTORY SUPPLIED ATTACHMENTS
Rotating beacon
Four-corner LED strobe
48 in (1.22 m) pallet forks
SERVICE PARTS
Add-on counterweights
Road lights
Four-corner LED strobe
Single point lift hook
Aspirator
Precleaner
FOPS Level 2
3 inch (76.2 mm) retractable seat belt
Bolt-on heavy-duty bucket teeth
EMISSIONS
Tier 4 Final
HPCR, EXTERNAL CEGR WITH DOC & SCR
Why this solution: As an after-treatment system, Selective Catalytic Reduction (SCR) lowers exhaust temperatures and does not require unproductive fuel use associated with burning off particulate matter, plus there's no Diesel Particulate Filter (DPF) to replace making it a great solution for larger, high-productivity engines.
How it works: The high-pressure common rail (HPCR) system electronically controls fuel injection for greater fuel economy through more efficient fuel burn. With Cooled Exhaust Gas Recirculation (CEGR), exhaust gases are cooled, blended with fresh air and then returned to the cylinder. Then the diesel oxidation catalyst (DOC) oxidizes the machine's exhaust to create heat, further managing particulate matter emissions.
SCR is a simple solution that combines DEF (Diesel Exhaust Fluid) with exhaust to convert NOx emissions into nitrogen and water. DEF is a non-toxic liquid that reacts with engine exhaust in the presence of a catalyst to perform emissions conversion.
What this means to you: SCR provides a significant reduction in fuel use and has no DPF to replace, resulting in a lower total operating cost for the life of the machine. Keeping it running is simple - just refill DEF as needed.
Powered by an FPT engine.