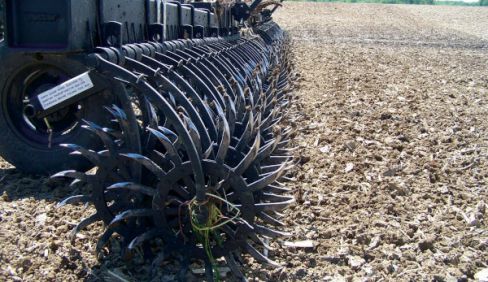 Double tap to zoom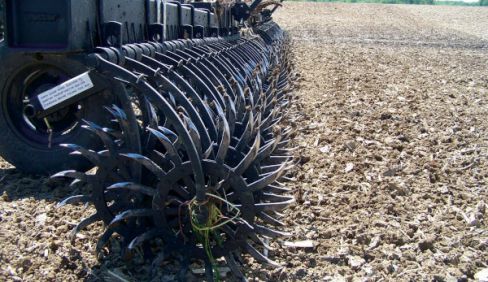 Features
Short- and long-cast arms stagger wheels 7" to facilitate residue flow
Wheels spaced on approximately 3 1/4" centers across width of machine
Spoon-bill wheel teeth are mounted on individual, spring-cushioned cast arms, allowing better soil contact with each wheel
Low horsepower requirements with operating speeds of 7-10 mph
Available with a wide array of options to fit the needs of your operation (gauge wheels, helper springs, trash guards, min-till conversion, and rear parking stand for folding models; see options tab above for details)
Widest models (see model details) feature double 7" x 7" toolbar design for added strength
Rigid (3400 model) available in 12', 15', 21', 28', 30', and 34' widths
180° flat-folding (3500 model) available in 25', 28', 30', 34', 41', 46', 54', and 60' widths
Breaks up crusted soil to improve emergence
Mechanically rips out young weeds
Aerates and fluffs soil around growing plants
Incorporates herbicides and small seeds in one fast pass
Specifications
Hitch: Mounted three-point category II/III on 12' to 46' models; category III/IV on 54' and 60' models
Hoe wheels: 21" diameter hoe wheels equipped with sealed gothic arch ball bearing
Riveted wheel assembly: 16 forged, self-sharpening, spoon-bill teeth
Down pressure: 18 lbs. with standard springs
Cylinders: 3000 psi with hoses on folding models
Safety features: SMV emblem, reflectors, light kit
Convenience features: Operator shield and parking stands
Options: 
Truss Kit for 28' (3500-001) and 30' (3500-002)
Bolt-on kit that enables a folding 3528 or 3530 to function as a rigid toolbar
Truss constructed from 3" x 3" x 3/16" wall square tubing
Toolbar Gauge Wheels (3500-108)
Includes 2 gauge wheel assemblies equipped with 15" wheels
Fits on 5" x 7" and 7" x 7" toolbars
Frame gauge wheels maintain rotary hoe frame at a constant level in respect to the ground contour
Recommended tire size: 205/70R15 or equivalent
NOTE: Tires are not included with kit
Wing Lock Kit (3500-107)
Designed to fit 25', 28', 30', 34', 41', and 54' flat-folding Rotary Hoes
Prevents wings from floating up in certain operating conditions
Allows complete operator control from the tractor seat
Locks the wings in horizontal position when desired
Will allow the wings to float by simply retracting the wing lift cylinders slightly
Weight transfer system from center section to wings to improves penetration
Rear Parking Stand (3500-135)
Required when storing rotary hoe in folded position to help stabilize the implement
Includes 2 stands per kit
Fits 7" x 7" square toolbar
Helper Spring Kit (3400-172)
Provides additional down pressure to rotary hoe wheels
Increases down pressure from 18 lbs. to 36 lbs.
Enables rotary hoe wheels to crack extra-hard crusted soils
Installs over existing spring and axle
One spring kit fits one wheel
Trash Guard (3400-147)
Clears residue and clods
Prevents corn root balls from plugging between wheels
Prevents wheels from locking or dragging
Used on standard rotary hoes only (not required on min-till rotary hoe)
One guard fits one wheel
Min-Till Conversion Kit (3400-170)
Enables a standard rotary hoe to be converted to min-till version
Increases separation of the two rows of rotary hoe wheels to improve residue flow
Increase the stagger from 7" to 21"
NOTE: When equipping a 3400 or 3500 Series with Min-Till kit, the helper spring kit (3400-172) must be added to the seven (7) min-till arms above the OSHA screen in the folding position.