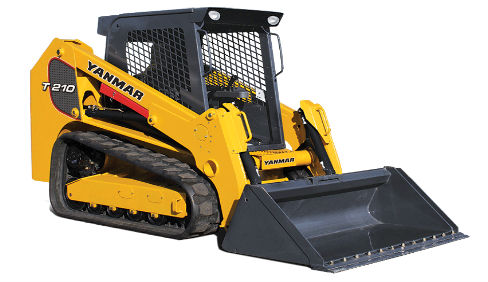 Double tap to zoom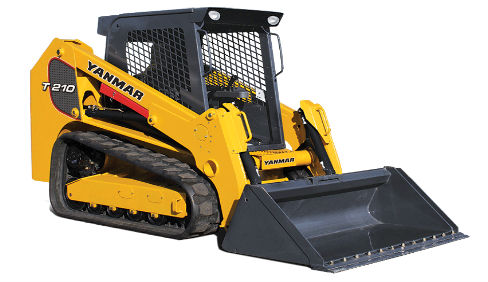 Features
Tier 4 Final Turbocharged Diesel Engine
With Yanmar's Tier 4 Final turbocharged diesel engine you'll never have trouble finding the power to dig up gnarly stumps or lift granite blocks.  You won't have to worry that you have a diesel-guzzler on your hands, either.  Even with up to 206 ft. lbs. of torque, these engines always run cleanly and efficiently.
Automatic Track Tensioning
Instead of wasting time adjusting track tension all day, enjoy having it done constantly while you work with our industry-exclusive Automatic Track Tensioning System.
Anti-Stall Hydrostatic Pump
You can't afford to have an engine quit on you when the going gets tough.  Yanmar's Anti-Stall Technology automatically adjusts the hydrostatic pump, so even as drive load increases, maximum engine torque and drive power are constantly maintained.
Specifications
Model
T210-1
ENGINE
 
Make/Model
Yanmar 4TNV98CTNMSL
Tier 4 Final
Type
4-Stroke Turbo
Displacement
203 cu.in. (3.319 L)
Cylinders
4
Net Horsepower @ 2500 rpm
70.7 hp (52.7 kW)
Peak Torque @ 1600 rpm
206 ft-lbs (279.3 Nm)
Oil Pump Capacity
11 qts (10.4 L)
Alternator Voltage/Amperage
14V/95A
CAPACITY
 
Operating Capacity at 35% of Tipping
Load
2100 lbs (953 kg)
Operating Capacity at 50% of Tipping
Load
3000 lbs (1361 kg)
Tipping Load
6000 lbs (2722 kg)
Operating Weight
9890 lbs (4486 kg)
VOLUME
 
Fuel Tank
24.4 gal (92 L)
Hydraulic Reservoir
13.8 gal (52.2 L)
Coolant Capacity
3.8 gal (14.4 L)
FORCES
 
Bucket Breakout - Tilt Cylinder
5492 lbs (2491 kg)
Bucket Breakout - Lift Cylinder
5398 lbs (2449 kg)
Ground Speed - Single Speed
5.4 mph (8.7 km/hr)
Ground Speed - Two Speed
7.9 mph (12.7 km/hr)
TRACK DRIVES
 
Drawbar Pull / Tractive Effort
12,359 lbs (5606 kN)
Track Type
Rubber
Track Rollers
5
Roller Type
Steel
Track Width
17.7" (450 mm)
Ground Pressure
4.7 psi (0.32 bar)
DIMENSIONS
 
Overall Operating Height - Fully Raised
172" (4369 mm)
Height to Hinge Pin - Fully Raised
128" (3251 mm)
Reach - Fully Raised
37" (340 mm)
Dump Angle - Fully Raised
39°
Dump Height - Fully Raised
95.7" (2431 mm)
Maximum Rollback Angle - Fully Raised
102.5°
Overall Height at ROPS
83.1" (2111 mm)
Overall Length with Bucket -
Standard Counterweight
152.3" (3868 mm)
Overall Length without Bucket -
Standard Counterweight
114.5" (2908 mm)
Specified Height
67.7" (1720 mm)
Reach at Specified Height
31.8" (808 mm)
Dump Angle at Specified Height
75°
Maximum Rollback Angle at Ground
30°
Carry Position
7" (179 mm)
Maximum Rollback Angle at Carry Position
33°
Digging Position - Below Ground
-0.2" (5.1 mm)
Angle of Departure with
Standard Counterweight
29.2°
Ground Clearance
13" (330 mm)
Track Gauge
51.7" (1313 mm)
Track Shoe Width
17.7" (450 mm)
Crawler Base
58.4" (1483 mm)
Overall Width - Less Bucket
69.5" (1765 mm)
Bucket Width
73.9" (1877 mm)
Clearance Radius - Front with Bucket
98.1" (2492 mm)
Clearance Radius - Rear with
Standard Counterweight
64.6" (1641 mm)
Maximum Rollback at Specified Height
66.8°
Angle of Approach
90°
Grouser Height
1" (25 mm)
HYDRAULICS
 
Auxiliary Hydraulic Flow - Rated Speed
21.8 gpm (82.5 L/min)
High-Flow Hydraulic Flow - Rated Speed
35.9 gpm (135.8 L/
min)
Transmission Pump Type
Axial Piston
Motor Type
Axial Piston with
Planetary Reduction