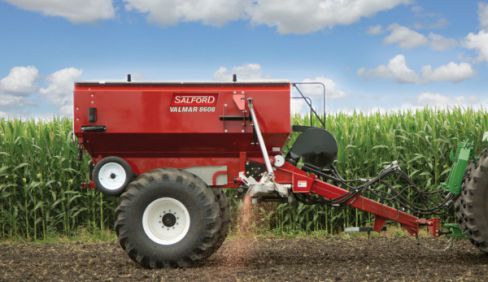 Double tap to zoom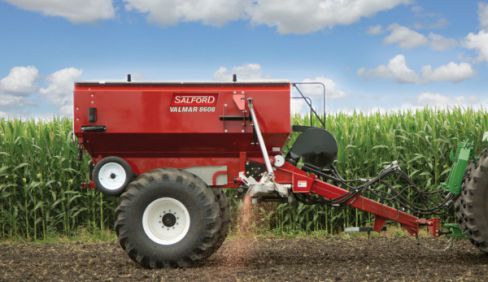 Features
Cover-More Acres in Less Time
Designed to meet the needs of large-scale farm businesses, the Salford Valmar Airflo 8600 is a high-capacity, pull-type spreader that delivers the highest rates of the application currently available in a commercial spreader. Thanks to its advanced design, the Airflo 8600 delivers rates as high as 1,000 pounds per acre at 8 miles per hour, allowing you to finish large jobs faster than ever. 
Accurate Metering System
The Airflo 8600 precise rate is a result of the ground-driven metering system that automatically adjusts on the go to ensure a uniform application rate regardless of ground speed. The hydraulically engaged metering system is based on a 30-setting, oil bath gearbox combined with a two-speed gear ratio to allow 60 settings that can be adjusted in increments of seven percent. This enables operators to select from more settings at closer increments, a feature that translates into more control over application rate for substantial savings in fertilizer costs. The 8600 can also be equipped with a hydraulic drive metering system for those using variable rate technology.
Spread More Product between Fills
The 8600's extra-large, the 230-cubic-foot hopper can carry up to seven tons of product. With a capacity like that, you'll be able to cover more acres between fills. The hopper itself is constructed of corrosion-resistant, painted 409 stainless steel and comes with a roll tarp installed.
Ideal for Row Crop Farming
Originally designed to meet the needs of row crop farmers, the 8600 features axles which can be adjusted from 72 inches to 120 inches to accommodate most row spacings. In addition, the 8600 can be equipped with optional tire sizes to achieve greater flotation or narrower tracking, depending on the operation.
High Capacity PTO or Hydraulic Driven Fan
This fan has field-proven history on the Air Max. With an operating speed of 4,700 RPM, the fan's airflow feeds through a nine-inch outlet directly to a two-piece manifold. Important features include a 17-inch fan impeller with plastic impeller blades and a four-band fan belt with tightener. The standard fan drive is a 1,000 RPM, 1 3/8-inch, 21T spline drive shaft. An optional 20T, 1 3/4-inch yoke with bridge is available for those requiring a larger driveline.  Valmar also offers an optional hydraulic driven fan drive. This option requires 35 gallons per minute hydraulic flow operating at 2225 PSI – well within the capability of some of today's higher capacity tractors.
Durable and Easy to Maintain
The 8600 includes a number of important features that provide for increased durability and easier maintenance. For long life, the hopper and booms are manufactured from stainless steel. There is easy access to all mechanical parts including the manifold. Finally, calibration and emptying of the unit are easier, thanks to funnel trays that are inserted under the metering system for easy collection of material.
Choose Boom Width to Match Your Needs
The Valmar 8600 comes with a standard 66-foot boom but can also be equipped with optional boom widths of 60 feet, 54 feet or 57 feet, allowing you to match boom width to your crop requirements. Booms are hydraulically folded and feature a hydraulic shut-off on the right boom to allow application on the left side only. All booms are equipped with rubber torsion boom suspension (which do not require any service and reduce friction, bouncing, and wear) and manual folding, break-away tips to minimize the damage that may occur from striking obstacles in the field.
Easy to Operate
Designed for easy use, all important field operations on the Valmar 8600 are hydraulically controlled from the cab through the use of three separate hydraulic lines (four lines with optional hydraulic fan drive). For example, the booms are folded, unfolded and locked hydraulically (through the use of a sequencer valve), allowing the quick and easy transition to and from transport position. Also, the metering drive wheel is engaged or disengaged hydraulically and comes equipped with a lockout valve to ensure ongoing positive engagement. Finally, half width application is possible thanks to a hydraulically operated half shut-off clutch system that comes equipped with a pressure relief valve for trouble-free operation.
Specifications
Hopper:
260 cu. ft. (223 cu. ft. and 37 cu. ft., if second metering system is used)
409 stainless steel with two-component epoxy primer and two-component, cross-linked acrylic top coat paint system
Roll tarp installed
Hopper screen assembly
Booms:
66-ft, 60-ft, 57-ft, or 54-ft spread width
Rubber torsion boom suspension
304 stainless steel construction
Break-away tips
3-in. diameter tubes (6 per side)
2 deflectors per tube
Metering:
Two 12-in. stainless steel conveyor chains
15:1 final drive gearbox ratio
Ground drive metering

One-way clutch allows you to back up with metering drive engaged
1.5 ratio gearbox equipped with reversible gears provides an additional 2X gear range
30 speed gearbox with 5% between settings
Oil bath gearboxes

Hydraulic metering drive options

A basic drive supplied with hydraulic motor and PWM valve only for completion by customer with system of their choice. Does not include radar, servo valve, encoders, controller/monitor, cables etc.
Fan:
17-in. impeller operates at 4700 RPM
9-in. outlet
PTO fan drive

1000 RPM CV, 1 3/8-in. 21-spline driveline
1.5 ratio PTO gearbox
4-band belt with tightener
14:4.5 pulley ratio

Optional hydraulic fan drive

28 CC motor, direct drive
Requires 35 GPM operating at 2225 PSI
38.5-in. water column manifold pressure
3/4-in. hydraulic lines
3/4-in. couplers recommended
Case drain required

Hydraulics:

4 outlets required to operate standard functions

Boom fold and lock
Engage metering drive wheel
Operate half shut-off on right or left boom

Requires additional remotes for optional hydraulic drives for fan and metering

Chassis:

72-120 in. adjustable axle
Single 3.5-in. axle with 10-bolt hub
12.4"-38 (320/85), 14.9"-38 (380/85), 23.1-26 R1 or R3, 28L-26 (750/65) R1 tire sizes available

Second Metering System:

30 cu. ft. hopper (moveable panel allows you to utilize either entire 230 cu. ft. hopper or 30 cu. ft./200 cu. ft. split)
Two 12-in., 28-groove metering rollers
60-speed metering gearbox with 5% between settings
In-cab electric clutch control with half shut-off on either side

Dimensions/Shipping Information:

Total weight 7,000 lb.

Transport: Hitch 1040 lb., Axle 5960 lb.
Field: Hitch 1360 lb., Axle 5640 lb.

9 ft. 10 in. Transport width
11 ft. 6 in. Transport height