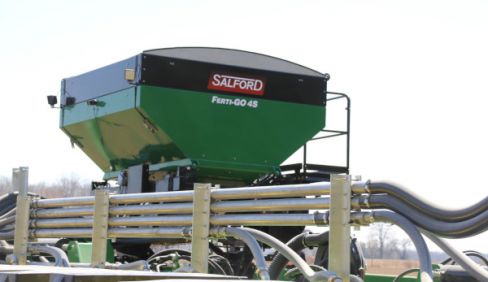 Double tap to zoom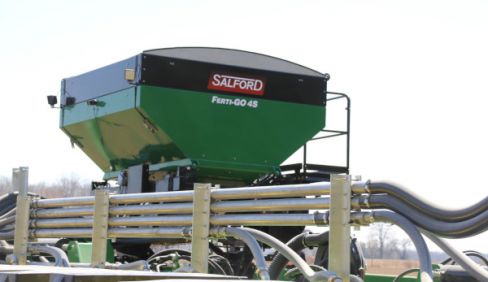 Features
Mounting
Mounting legs are available for popular planter models that are designed to carry on-board fertilizer systems. Mounting legs are designed to carry optional weigh scales.

* Note: 6-ton capacity is optional. 4-ton capacity is standard.  Always consult with your planter manufacturer on frame carrying capacities prior to mounting hoppers.  
Hopper
The Ferti-GO 4S features a 409 stainless steel single compartment hopper, with a standard capacity of 4 Tons. Optional extensions can raise capacity to 6 Tons*. Standard hopper screens allow the product to filter through while keeping rocks and other materials out of the metering system. Bin level sensors are also standard. A roll tarp acts as the hopper's lid and is easily rolled open and unrolled for closure, using the standard crank arm. When the roll tarp is rolled open, the top of the hopper offers a large area of access for filling and makes it easier for tender trucks to reach. A platform and ladder is also standard, for simple and safe hopper access.  
Four Section Metering System
In order to make the Ferti-GO 4S easy to unload and clean, it utilizes many of the same features of the ST Series, including snap-in meter rollers, spring-loaded hopper gates, and a full-width meter box clean-out door below the air manifold. The meter rollers are the same, accurate, peg-style rollers used in the ST Series, available in both standard and low rate peg sizes. Meter drive is hydraulic and variable rate ready, with a factory installed PWM valve. 
The 4 section metering system is the same reliable metering used in the ST Series, with the capability of turning up to 4 sections on or off based on field requirements. The Ferti-GO 4S comes standard as rate control ready, which allows producers to install a third party rate controller of their choice. An optional ISOBUS control system allows connectivity to any ISOBUS compliant cab console. Mechanical engagement of the meters is achieved via electric clutches; a proven approach that has already seen extensive use on other Salford-Valmar products*.
* Note: May not be compatible when used in conjunction with some planter controllers.
Specifications
Ferti-GO 4S Planter Mounted Applicator - 2018
Hopper
Hopper Fertilizer Capacity (Standard)
4 Tons (123 cubic feet)
Hopper with Optional High Capacity Sides
6 Tons (185 cubic feet)
Hopper Material
409 Stainless Steel, Painted
Hopper Screens
Included
Hopper Shut-Off
Spring Loaded Slide Gates
Weigh Scales
Optional
Hopper Cover
Roll Tarp
Fan / Air System
Impeller
20" Cast Aluminum
Max Fan Speed
5900 rpm
Fan Motor
12 cc Hydraulic
Hydraulic Requirements (Single Fan)
30 GPM @ 2800 psi
Hydraulic Requirements (Optional Dual Fan)
42 GPM @ 2800 psi
Available Air Outlets
6, 8, 12, 16, 18*, 20, 24
* Airline splitters available for use with 36+ row planters.
Air System Type
Open Venturi
Metering System
Type
Pegged Meter Roller
Roller Material
Plastic
Meterbox Material
304 Stainless Steel
Section Control
4 Section ON/OFF
Section Engagement
Electric Clutch
Meter Drive
Hydraulic (VR Capable)
Metering Output (Single Fan)
Up to 200 lbs / acre @ 6 mph on 24 rows
Metering Output (Optional Dual Fan)
Up to 400 lbs / acre @ 6 mph on 24 rows
* Metering output ratings based on as tested conditions – factors such as air temperature, humidity, hydraulic oil temperature, and product can affect output. Please ensure your tractor meets the hydraulic requirements listed